| | |
| --- | --- |
| | |
| | View Full Gallery |
View Full Gallery
Near Bagaces , Costa Rica
A working cattle ranch and nature retreat secluded between the Miravalles and Tenorio volcanoes of Costa Rica.
Overview
| | |
| --- | --- |
| 3,700 Acres | 8 bedrooms |
| Sleeps 16 | 6 bathrooms |
Unique Features
Tenorio Volcano
Farm to Table
Fly Fishing
Horseback Riding
A Hosted Experience
Guests are greeted by landowner or landowner representative, cooked for, guided and are attended to throughout stay.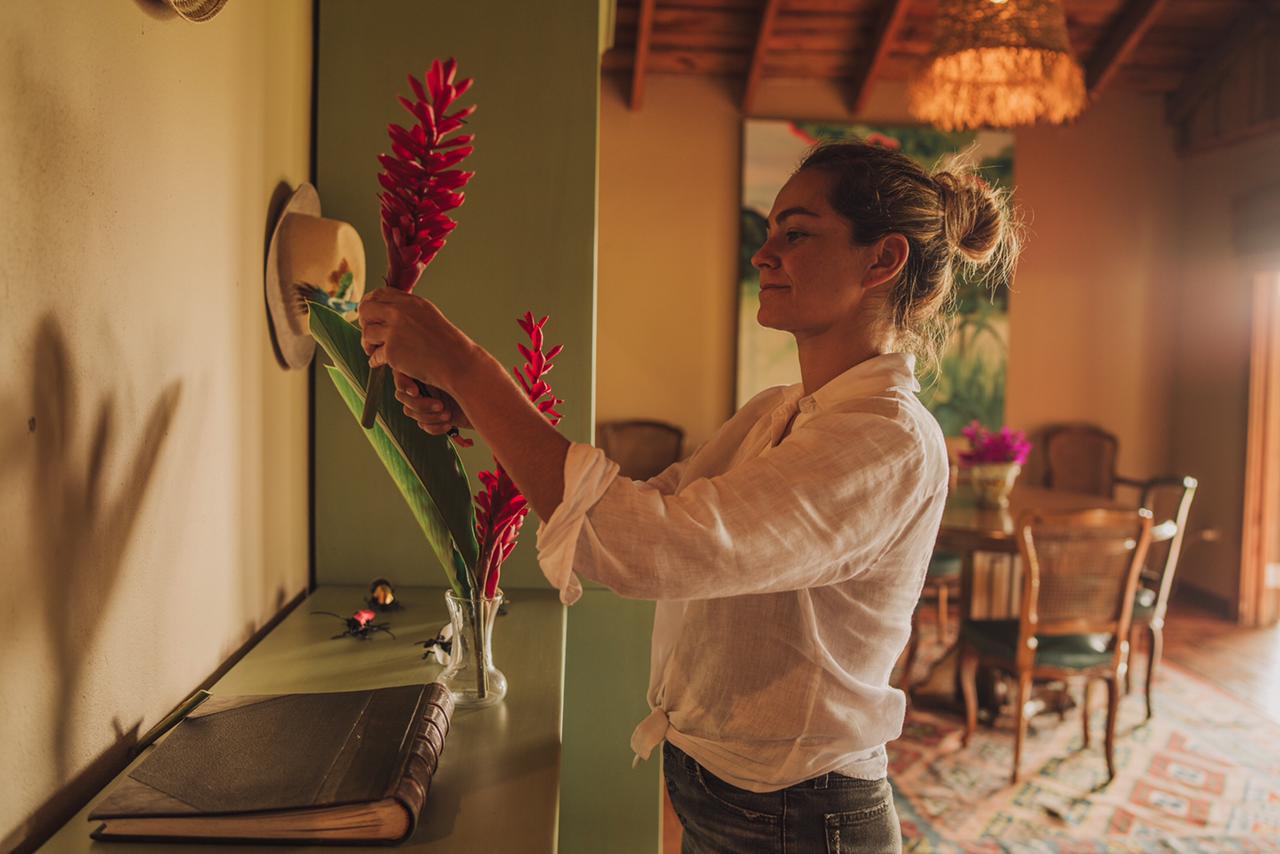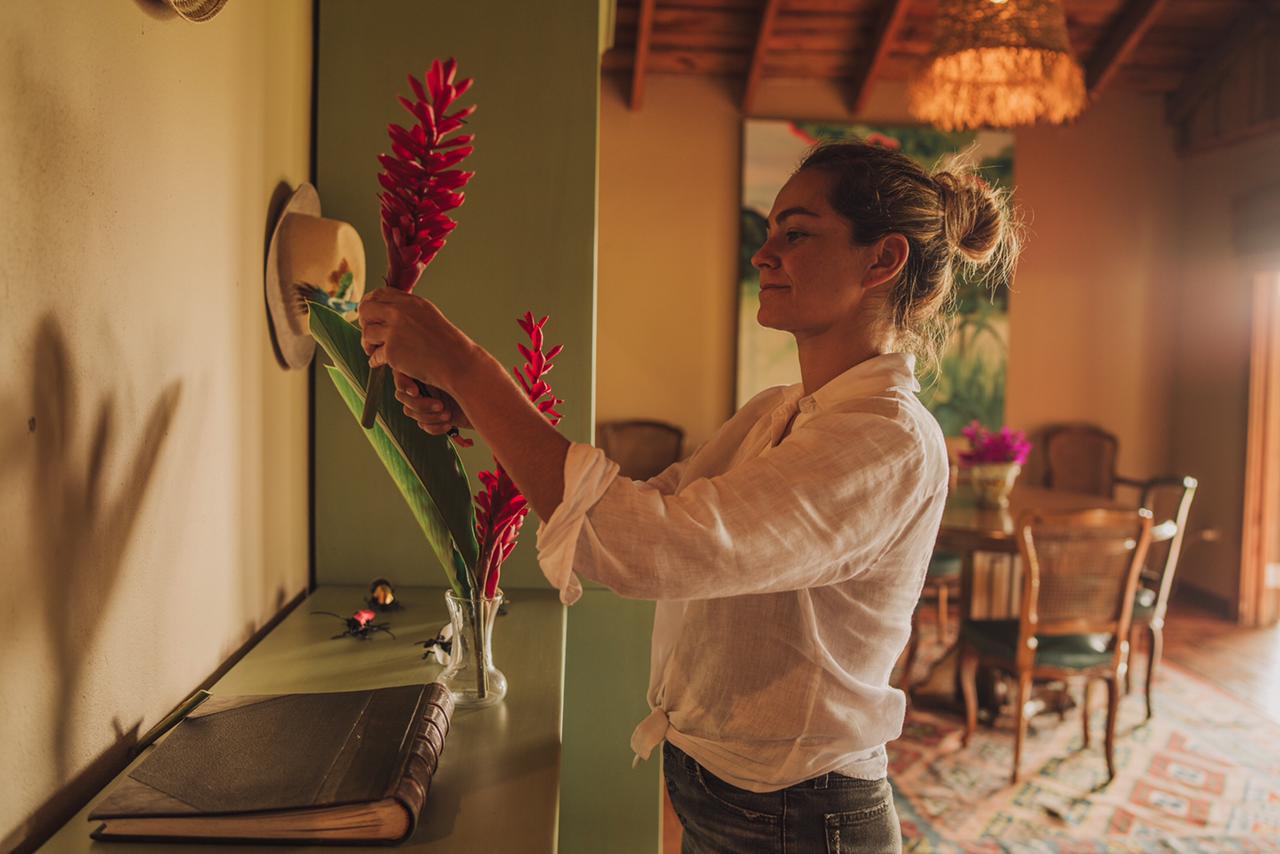 Your Host
Floriana Acosta
Landowner
Floriana is both the landowner and host. A native Costa Rican, she and her family have a passion for land stewardship and sharing the beautiful culture of their country with guests.
About the Ranch
The Experience
This Costa Rican family-run cattle ranch is located in the mountains between Miravalles Volcano, Tenorio Volcano, and its extensive National Park. Hacienda Montezuma is entirely off-the-grid, and the water is sourced fresh from the mountain springs.

The lake provides a tranquil spot for lazy afternoons, picnics and fishing. For those feeling more active, they can arrange fly fishing in the volcanic rivers, bird watching, trekking, rafting, a visit to the local town, and riding expeditions through pastures & the jungle.

The 3700 acre Hacienda is dedicated to raising and breeding Brangus and Brahman cattle, with more than 1300 head. Visitors can join the "sabaneros", or cowboys, while they herd and work the cattle.




The Accommodations and Culinary Experience
Floriana and the team excel at attention to detail. Every moment at the ranch from your accommodations to your activities and your meals have been well curated.

Both La Casona and La Casita are a canvas for Floriana's impeccable taste and finds from her extensive travels. Chic and comfortable, the homes offer spellbinding views and multiple terraces for afternoon siestas in the hammocks.

The food is mostly grown organic on the Hacienda. It is simple, healthy and traditional. Ebi, their chef, can also offer a delicious asada (barbecue) at the lake or on the terrace.

Conservation Ethic
Hacienda Montezuma and the Acosta family are dedicated to the protection of the 1500 hectares of primary and secondary forest.

As a protected zone, the farm provides a safe habitat for jaguars, anteaters,
monkeys, sloths, birds and a great variety of species from the region. Guests can
be involved in the re-wilding project and spend a day with the Costa Rica Wildlife Trust tracking the native tapir.
The Land
Hacienda Montezuma provides a safe habitat for pumas, jaguars, anteaters, monkeys, sloths, toucans, manigordos, and a great variety of species from the region.
From The
Ranch
Owner
From The
Ranch Owner
"Our approach is beautifully simple - we harbor our natural resources to engage with regenerative farming. We produce our own energy, food, and share our farming practices with the local community."
-Floriana Acosta
The Lodging
A mix of eclectic decor and local finishes, La Casita and La Casona provide an intimate setting for a comfortable stay. After any activity, or just to relax, the outdoor terrace or fire-pit is the perfect place to unwind.
La Casona
3,000 sq. ft.
5 bedrooms
4 bathrooms
sleeps 10
La Casita
1,500 sq. ft.
3 bedrooms
2 bathrooms
sleeps 6
A mix of eclectic decor and local finishes, La Casita and La Casona provide an intimate setting for a comfortable stay. After any activity, or just to relax, the outdoor terrace or fire-pit is the perfect place to unwind.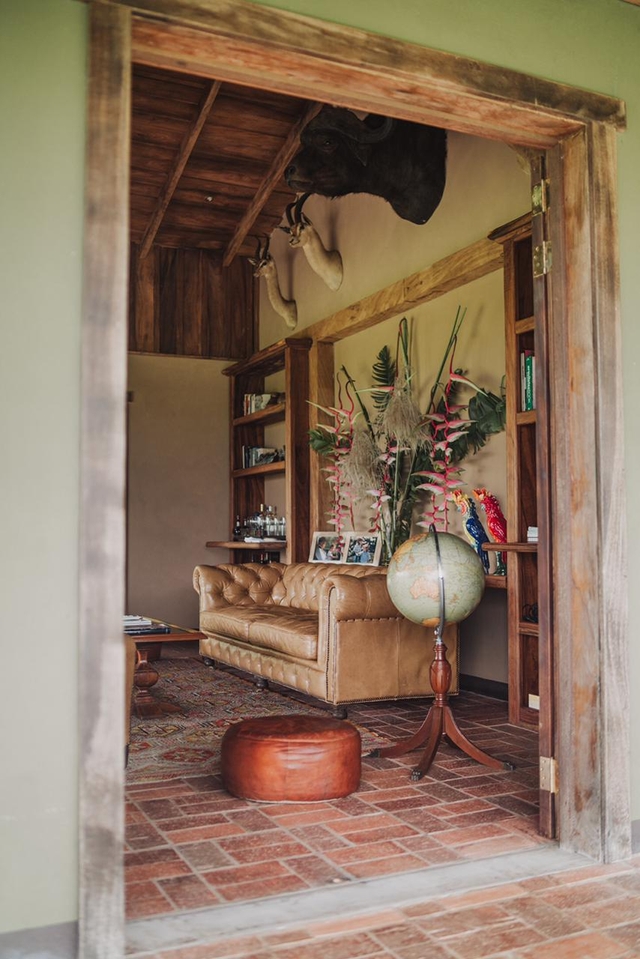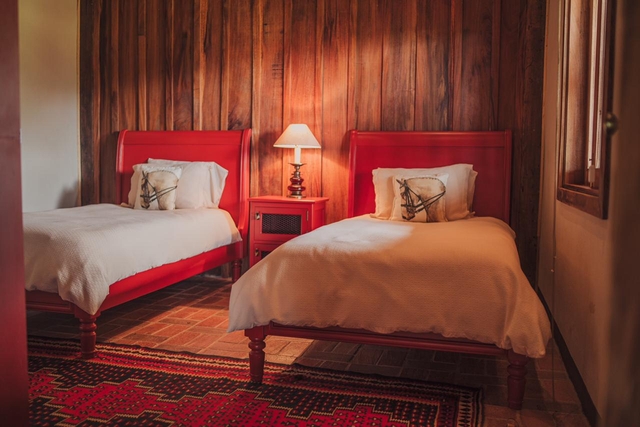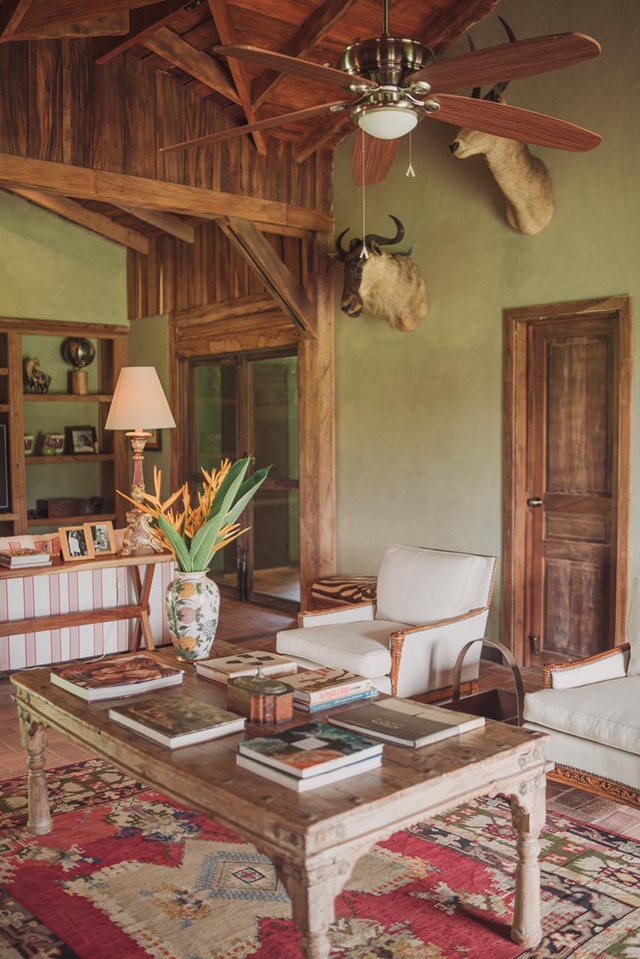 La Casona
3,000 sq. ft.
5 bedrooms
4 bathrooms
sleeps 10
La Casita
1,500 sq. ft.
3 bedrooms
2 bathrooms
sleeps 6
Wifi
Fireplace
Coffee maker
Linens
Towels
Fully equipped kitchen
Air conditioning
Outdoor Grill
Kid-Friendly
Non-Smoking
No pets allowed
Activities
The lake provides a place to picnic, swim, and fish. For the active guest, there's the option of trekking, riding expeditions through the jungle, rafting, and more.
Biking
Bird watching
Fishing
Hiking
Horseback riding
Paddling
Stargazing
Swimming
Water sports
Wildlife Viewing
Equipment Available
Horseback Riding Tack - 10
Available Activities
Let us know what you're interested in when you request to book.
Horseback Riding
This is a fun way to get to see most of the farm. The Hacienda has beautiful trails and also "pampa" for those who want to canter. You can also choose from 1 hour ride, to 3 hours. There are beautiful trails where you will be able to spot many bird species, monkeys like Cariblanco, Spider or Congo. There are also plenty of sloths, toucans and dantas if you get lucky! INCLUDES A PICNIC ON THE MOUNTAIN
Hiking
There are 3 trails at the farm for hiking. One can be done in one hour and a half (great for kids), the other one takes 3 hours, (intermediate) and then for the most adventurous ones there is a 5-6 hour hike. INCLUDES A PICNIC IN THE FOREST
Fishing and Paddleboarding
These are activities done at the lake, close to the houses. The property has many natural springs, where most of them end up in a river that flows to a lake to make all of the electricity for the property. It consists of two lakes and one hydroelectric power plant. The water is so clean we could bottle it if we want, so you can have all clean and drinkable water at the houses. INCLUDES A PICNIC ON THE LAKE
Tractor Riding
This is an activity that will be fun and exciting for those who are not big fans of riding horses. It is a great way to get to visit the highlands of the ranch that are not able to get by car. It is also a fun adventure where you have to hold on hard! INCLUDES A PICNIC EITHER IN THE FOREST OR ON THE MOUNTAIN
Yoga
Start your day with an invigorating lake side session.
Massage
Unwind and reset after a day of exploration and activities. Or make complete relaxation your activity for the day.
Fly Fishing
The northern Guanacaste area where Hacienda Montezuma is located has some spectacular rivers, home to rainbow bass (known as guapote), tarpon, machaca and mojarra for prime angling. Your dedicated fishing guide will take you to the best spots, stopping for a picnic lunch in a shaded spot. All fishing equipment will be provided. Half or full day excursion.
Visit to the Cacao Farm
The local cacao farm, 40 minutes from the hacienda, produces some of the best chocolate in the country. Don Gera will take you through the traditional cacao harvesting process and you will learn to produce your own artisan, small batch chocolate. Roughly 3 hours.
Mountain Biking
Mountain biking takes place on the grounds of the farm, where you will explore the rolling terrain of the farm dotted with cattle, sabaneros on horseback and jungle, between the Miravalles and Tenorio volcano. The excursion can be varying levels of difficulty, tailored to the experience level of the guests.
Rafting
There are a number of rivers running down the volcanoes and mountains around Bijagua, where the hacienda is located. This river is a prime spot for rafting as it's incredibly scenic, especially during the bright hours of the morning. You will travel 35 minutes from the hacienda to reach the put-in spot, where a guide and your four-person raft will be waiting. This is not a high octane rafting experience, there's a mix of rapids and natural pools and a small waterfall, but the jungle lined banks are rustling with wildlife. After the 2 hour journey you will reach quiet bank where a picnic lunch is prepared.
Permaculture
Spend a couple of hours with an experienced, local permaculturist in the gardens on the farm exploring the rich soil and productive ecosystem of Costa Rica. You will learn tips and insights of sustainable land management in creating an affluent ecosystem. 1.5-2 hours.
Wildlife Tracking
Hacienda Montezuma is home to pristine primary rainforest stretching across 15000 hectares. The protected land is a nature reserve where neighbouring wildlife rehabilitation centres release jaguars, ocelots, anteaters, sloths, monkeys and other life. The experienced guide, Otto, will lead you through the jungle, machete in hand, pointing out the myriad of birdlife and stopping to observe tracks on the jungle floor. Minimum of 2 hours.
Cooking Classes
Under the masterful hands of a top local chef you will learn how to transform the hacienda's natural kitchen produce into typical Costa Rican dishes, including gallo pinto. 2-3 hours.
Request to stay at Hacienda Montezuma
In order for us to ensure you have the best experience, we take your requested date and party size and confirm with the ranch owner before you finish and pay for your booking. You will not be charged to request to book.
512-230-3345
info@exploreranches.com
$7,080
Max number of people: 16
Meals, activities (horseback riding, hikes, and picnics), and IVA included in nightly rate. La Casita is $7,080/nightly for up to 6 people and La Casona is $9,480/nightly for up to 10 people. Please inquire for pricing for groups of 2-4.
512-230-3345
info@exploreranches.com