| | |
| --- | --- |
| | |
| | View Full Gallery |
View Full Gallery
Private Nueces River Ranch 110 miles west of San Antonio Texas
Secluded Nueces River retreat on the edge of the Hill Country
Overview
| | |
| --- | --- |
| 133 Acres | 4 bedrooms |
| Sleeps 12 | 5 bathrooms |
Unique Features
Access to crystal clear river
Large renovated home
Hike, fish and paddle destination
Perfect for extended stays
Pre-arranged pickup location for keys, self guided, guests are on their own for meals, landowner representative can be contacted in an emergency.
About the Ranch
The Ranch
Elephant Mountain Ranch is part of the Texas Hill Country River Region. With crystal clear rock bottom river beds like the Frio River in Concan and Leakey, TX this Nueces River ranch offers a secluded, private experience. The ranch is named for a baby elephant that escaped from and was returned to a circus traveling through nearby Montell in the early 20th century. Lipan Apache once roamed the Nueces Canyon, Franciscan monks and the U.S. military set up outposts and Charles Lindbergh made an unplanned stop nearby at the turn of the 20th century.
The Experience
As the sun is rising, step out from the spacious kitchen and living area on to the covered front porch, in the shade of Elephant Mountain. Over the distant hills, the suns rays hit your face and signal the start of a day on your very own ranch. Let the kids ride their bikes along the rolling ranch roads or head down to the river for a swim. Pack your mask and snorkel or a fishing rod and bring along a kayak or stand up paddle board, because the river here can get up to 15 feet deep. Head back to the house for lunch or take short walk to the nearby stream and have a picnic while the kids play in the wast-deep water or chase butterflies. At the end of the day, take a 20-minute hike up to the top of Elephant mountain, check out a few caves along the way, and see for miles up and down the canyon. Enjoy dinner or drinks under the dark skies, knowing that the place is all yours, at least for a few more days.
The Accommodations
The mid-century rock house is laid out perfectly for several families or a large group. Enjoy a spacious and open format living and kitchen area, three bedrooms with private bathrooms, and a game room with bar and ping pong table. The beds and linens are all new and washer, drier and kitchen appliances are all commercial-size for large groups.
From
Our
Guests
From Our
Guests
"Elephant Mountain Ranch was the perfect place for our family to come for relaxation. The expansive views, welcoming home, clear water and wildlife every corner were more than we could have hoped."
-Natasha and Jerry G. - San Antonio
"We spent a lot of time in the river. Late afternoon hikes up the mountain were fun for everyone. The biggest surprise was seeing thousands of Monarch butterflies down by the creek every morning. They would overnight on the low pecan tree branches and to see them all there was magical."
-JH and LP
"Thank you for sharing perfect place for a family escape. The quiet expanse of gorgeous scenery, the sounds of the river, wildlife and deep night sky with millions of stars - what a wonderful break from the city. Not to mention the Monarch butterflies! We swam, ate and talked with family, - exactly what we needed."
-Leilah, Catherine and Carolyn
"Dixie, Herb and their son-in-law Kincaid were incredibly welcoming, helpful, and charming. They invited us to a special BBQ and ensured we had a fun welcome gift filled with some local treats, as well as access to kayaks and all the info we needed to have a great stay. We feel we left with new friends in Texas"
-IB from Austin
"Everyone in the group had a great time! We made some good memories. House was great, kitchen was well stocked, and the weather was beautiful. Thanks for being a great host!"
-Anand S.
The Land
The water will draw you in and the solitude will wash over you. Explore this pristine jewel on one of Texas most under-appreciated rivers. Swim, hike, fish, paddle and relax.
From The
Ranch
Owner
From The
Ranch Owner
"Elephant Mountain Ranch is perfect for family and friends. Hike to the top of the mountain, picnic by the spring-fed stream, swim and fish in the Nueces River or simply lounge on the porch. It's a magical area that's one of Texas' best-kept secrets."
-Radicke & Light Families
The Lodging
Recently restored rock house nestled between Elephant Mountain, a stream and river. Hosts a maximum of 12 people.
River View
4,700 sq. ft.
4 bedrooms
5 bathrooms
sleeps 12
Recently restored rock house nestled between Elephant Mountain, a stream and river. Hosts a maximum of 12 people.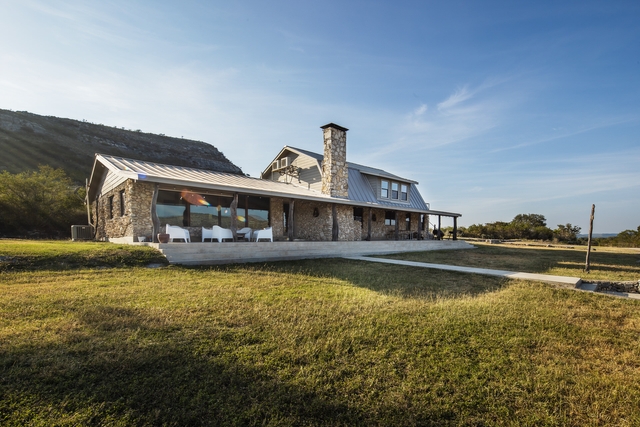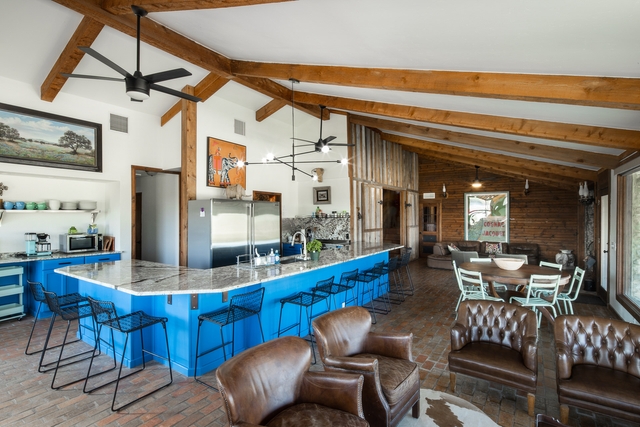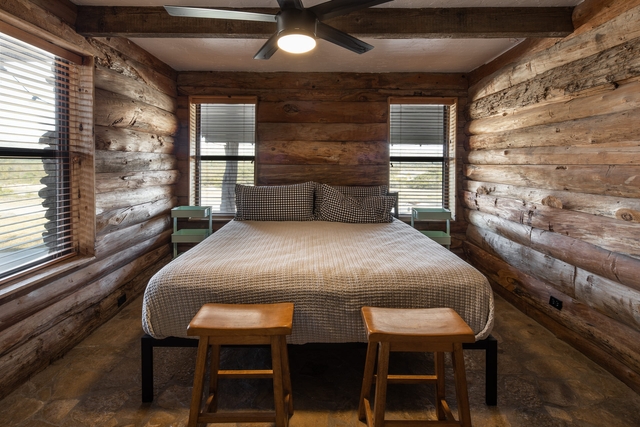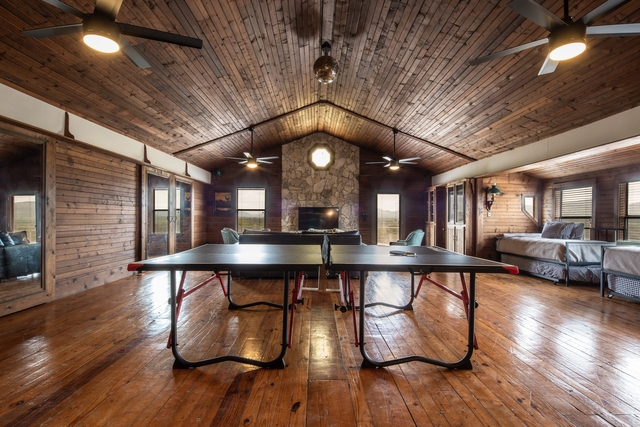 River View
4,700 sq. ft.
4 bedrooms
5 bathrooms
sleeps 12
Billiards Room
Wifi
Cable/Satellite TV
Washer & Dryer
Fireplace
Coffee maker
Linens
Towels
Fully equipped kitchen
Air conditioning
Outdoor Grill
Kid-Friendly
Non-Smoking
No pets allowed
Activities
When you aren't relaxing by the river or picnicking by the stream, hike to the top of Elephant Mountain or just relax on the front porch with unobstructed Hill Country views. After a full day, head back to the house and end the night under the stars and by the fire.
Biking
Bird watching
Fishing
Hiking
Paddling
Stargazing
Swimming
Water sports
Wildlife Viewing
Explore More
Our booking specialists are knowledgeable about the area and can make suggestions about excursions, rentals and supplies. At your request and for an additional fee, they will provide an array of concierge services, such as organizing airport pick-up and drop-off, outfitter guided trips (fly-fishing, rafting, horseback riding), arranging musical entertainment, catering/personal chef services, yoga, massage therapy, and grocery shopping.
Things like:
Kayaking
Mountain Biking
Catering
More
Request to stay at Elephant Mountain Ranch
Private Nueces River Ranch 110 miles west of San Antonio Texas
In order for us to ensure you have the best experience, we take your requested date and party size and confirm with the ranch owner before you finish and pay for your booking. You will not be charged to request to book.
512-230-3345
info@exploreranches.com
$1,250
3 night minimum
Max number of people: 12
Four night minimum over holidays and Spring Break
512-230-3345
info@exploreranches.com