| | |
| --- | --- |
| | |
| | View Full Gallery |
View Full Gallery
Chandler Ranch
In Terrell county near Sheffield, TX
A rugged canyon oasis at the confluence of Independence Creek and the Pecos River
Overview
| | |
| --- | --- |
| 1,500 Acres | 4 bedrooms |
| Sleeps 14 | 3 bathrooms |
Unique Features
Two free flowing rivers
Spring fed swimming pool
Renovated accommodations
Game room
A Hosted Experience
Guests are greeted by landowner or landowner representative, cooked for, guided and are attended to throughout stay.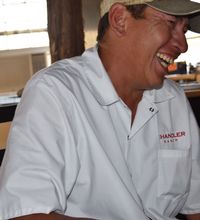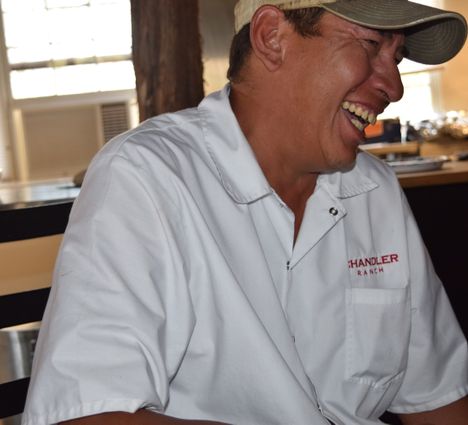 Your Host
Richard Jasso
Manager
Richard is the onsite manager and cook. He will be available to answer questions, provide ranch information and make sure your stay is exactly what you wanted your ranch getaway to be.
About the Ranch
The Experience
"The new wild is where people and nature thrive together."
These eloquent words perfectly express the Chandler family's philosophy of the ranch. The vision of making their home a place for guests to enjoy natural beauty and, at the same time, taking care of that beauty was always behind the creation of the guest ranch business.
Independence Creek runs clear and steady through the West Texas desert, directly in front of Chandler Ranch headquarters and into the limestone cliffs that form the Pecos River. Escape to the clear cool waters that converge on Chandler Ranch and enjoy swimming, fishing, canoeing, kayaking, and exploring.
The Accommodations
Three meticulously restored cabins interlace rustic style with modern conveniences. Each provides the comforts of home and takes inspiration from Texas' natural surroundings. The three cabins comfortably sleep up to 14 people.
The History
The Chandler family has occupied this stunning piece of iconic Texas for over 100 years. After decades of traditional ranching, the Chandler family saw their dream of sharing the ranch with others come to fruition. The Chandler Guest Ranch opened in the early 1950's and entertained guests from all over west Texas for many years.
In an effort to honor his family legacy, Joe Chandler began renovations on the ranch in 2014 and re-opened the ranch to guests welcoming families from as far as California.
The Land
Set in a transition zone between the Edwards Plateau, Tamaulipas Thornscrub and Chihuahuan Desert, this sparsely populated region consists of low desert grassland mesas bisected by the rocky canyons and bluffs of the Pecos River watershed.
From The
Ranch
Owner
From The
Ranch Owner
"Drop the electronics. Enjoy the outdoors. Disconnect from the world and reconnect with your friends and family."
-Joe Chandler
The Lodging
Cafe Cabin
650 sq. ft.
2 bedrooms
1 bathrooms
sleeps 6
Bunkhouse One
450 sq. ft.
1 bedrooms
1 bathrooms
sleeps 4
Bunkhouse Two
450 sq. ft.
1 bedrooms
1 bathrooms
sleeps 4
Cafe Cabin
650 sq. ft.
2 bedrooms
1 bathrooms
sleeps 6
Bunkhouse One
450 sq. ft.
1 bedrooms
1 bathrooms
sleeps 4
Bunkhouse Two
450 sq. ft.
1 bedrooms
1 bathrooms
sleeps 4
Wifi
Cable/Satellite TV
Pets allowed
Fireplace
Coffee maker
Pool
Hair dryer
Linens
Towels
Telephone
Air conditioning
Outdoor grilling
Kid-Friendly
Non-Smoking
Activities
Biking
Bird watching
Fishing
Hiking
Paddling
Stargazing
Swimming
Trail running
Water sports
Wildlife watching
Equipment Available
4WD Transportation
Fishing Equipment - 3
Kayaks/Canoes - 2
Explore More
As part of your journey, we would love to help you find additional activities and services to book while on the ranch. We will reach out to you when you request to book to find your specific needs.
Things like:
Kayaking
Mountain Biking
Catering
More
Request to stay at Chandler Ranch
In Terrell County near Sheffield
In order for us to ensure you have the best experience, we take your requested date and party size and confirm with the ranch owner before you finish and pay for your booking. You will not be charged to request to book.
512-910-8777
info@exploreranches.com
$2,500
2 night minimum
Max number of people: 14
512-910-8777
info@exploreranches.com