| | |
| --- | --- |
| | |
| | View Full Gallery |
View Full Gallery
Private ranch off the grid between Santa Fe and Taos, NM
A high desert escape in Northern New Mexico
Overview
| | |
| --- | --- |
| 660 Acres | 3 bedrooms |
| Sleeps 6 | 4 bathrooms |
Unique Features
Private ranch near Santa Fe and Taos
Luxury off-grid home
Base for hiking, rafting, fishing, and more
Stopover on way to and from Colorado
Pre-arranged pickup location for keys, self guided, guests are on their own for meals, landowner representative can be contacted in an emergency.
About the Ranch
The Ranch
Rancho Embudo Al Cielo means "Funnel To The Heavens Ranch". The Ranch property is remote, but close to a lot of attractions. The Ranch is above the confluence of the Embudo and the Rio Grande Rivers, near Dixon, NM. The dirt road up to the Ranch climbs nearly 1,000 ft. to an elevation of 7,000 feet above sea level. Four wheel drive is strongly recommended and all wheel drive required for safe access. Don't forget your hiking and mountain biking gear. The ranch is about 45 miles north of Santa Fe and about 24 miles southwest of Taos. The ranch is situated atop an ancient mesa that is now split by the Rio Grande rift that stretches from southern Colorado to northern Mexico. The property is not far from the nearby town of Dixon but above the river valley with 360 degree views of the surrounding mountains.
The Ranch Home
The ranch's state-of-the-art home is completely off-the-grid but with good cell coverage and available wifi. The home is about 3,800 square feet and sleeps six comfortably. The residence is built of Pumice-Crete, pumice being one of nature's best insulating materials. The main part of the home - the kitchen, dining, living, and library areas - are contained in a cylindrical Kiva shaped room with a cathedral viga ceiling.

There is a loft over about half of the Kiva room, accessible by a spiral staircase. The loft has a balcony deck, overlooking a water feature, a queen sized futon and a full bath and tv. The master bedroom has a gas fireplace and 'his and hers' bathrooms, a see-through double shower and separate walk in closets. There is a guest bedroom with a full bath. There is a tv, stereo, washer, and dryer. The home, while still under construction, was featured in a Wall Street Journal Real Estate Section called "Mansions Off The Grid"
The Land
The ranch sits atop La Mesita and the Rio Grande River Valley, surrounded by mountains on all sides and an abundance of tranquility. This high desert sanctuary offers guests the opportunity to see a variety of birds, elk, mule deer and the occasional black bear and desert bighorn sheep.
From The
Ranch
Owner
From The
Ranch Owner
"This place, atop an ancient mesa, surrounded by majestic mountains, and the mighty Rio Grande River below, is truly unparalleled. "
-Ken & Susan Crawford
The Lodging
A modern home, completely off-the-grid and situated in one of the most spectacular settings in Northern New Mexico.
Main house
3,800 sq. ft.
3 bedrooms
4 bathrooms
sleeps 6
A modern home, completely off-the-grid and situated in one of the most spectacular settings in Northern New Mexico.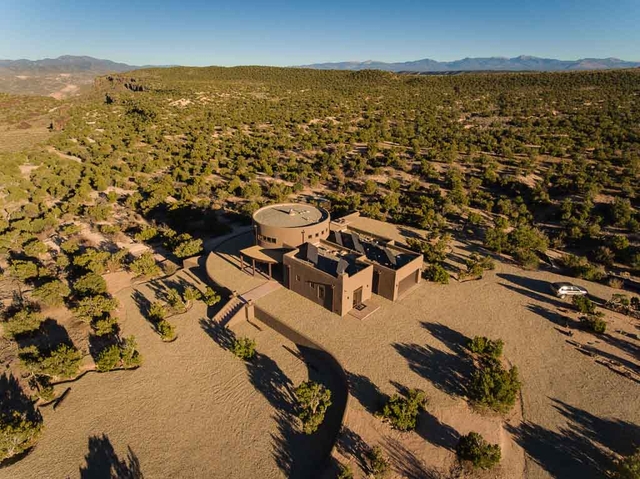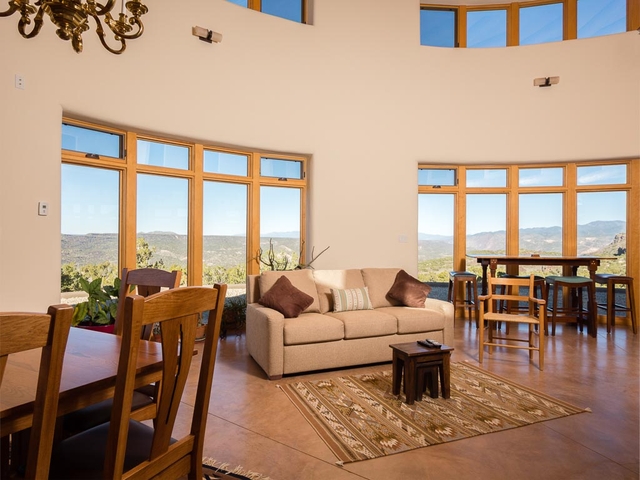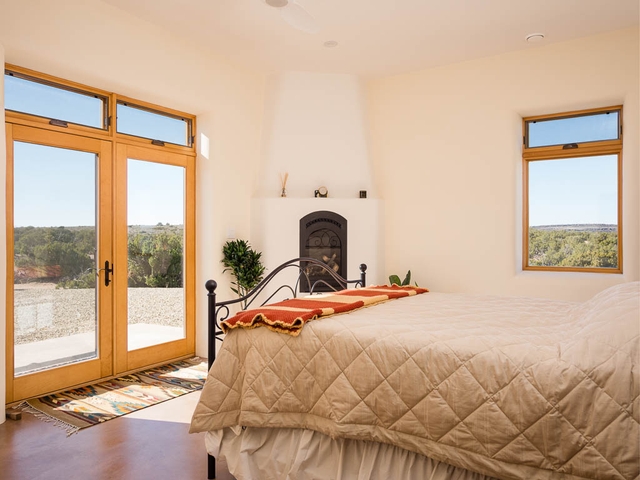 Main house
3,800 sq. ft.
3 bedrooms
4 bathrooms
sleeps 6
Wifi
Cable/Satellite TV
Washer & Dryer
Fireplace
Coffee maker
Linens
Towels
Fully equipped kitchen
Outdoor Grill
Non-Smoking
No pets allowed
4WD Recommended
Activities
Hike at 7,000 feet above the river valley and surrounded by mountain ranges in every direction, venture off to nearby destinations in Northern New Mexico or simply enjoy the opportunity to slow down and enjoy the scenery.
Biking
Bird watching
Hiking
Stargazing
Trail running
Wildlife Viewing
Explore More
Our booking specialists are knowledgeable about the area and can make suggestions about excursions, rentals and supplies. At your request and for an additional fee, they will provide an array of concierge services, such as organizing airport pick-up and drop-off, outfitter guided trips (fly-fishing, rafting, horseback riding), arranging musical entertainment, catering/personal chef services, yoga, massage therapy, and grocery shopping.
Things like:
Kayaking
Mountain Biking
Catering
More
Request to stay at Rancho Embudo Al Cielo
Private ranch off the grid between Santa Fe and Taos, NM
In order for us to ensure you have the best experience, we take your requested date and party size and confirm with the ranch owner before you finish and pay for your booking. You will not be charged to request to book.
512-230-3345
info@exploreranches.com
$900
4 night minimum
Max number of people: 6
High desert escape in northern New Mexico
No commitment
You won't be charged yet
512-230-3345
info@exploreranches.com