Apr 23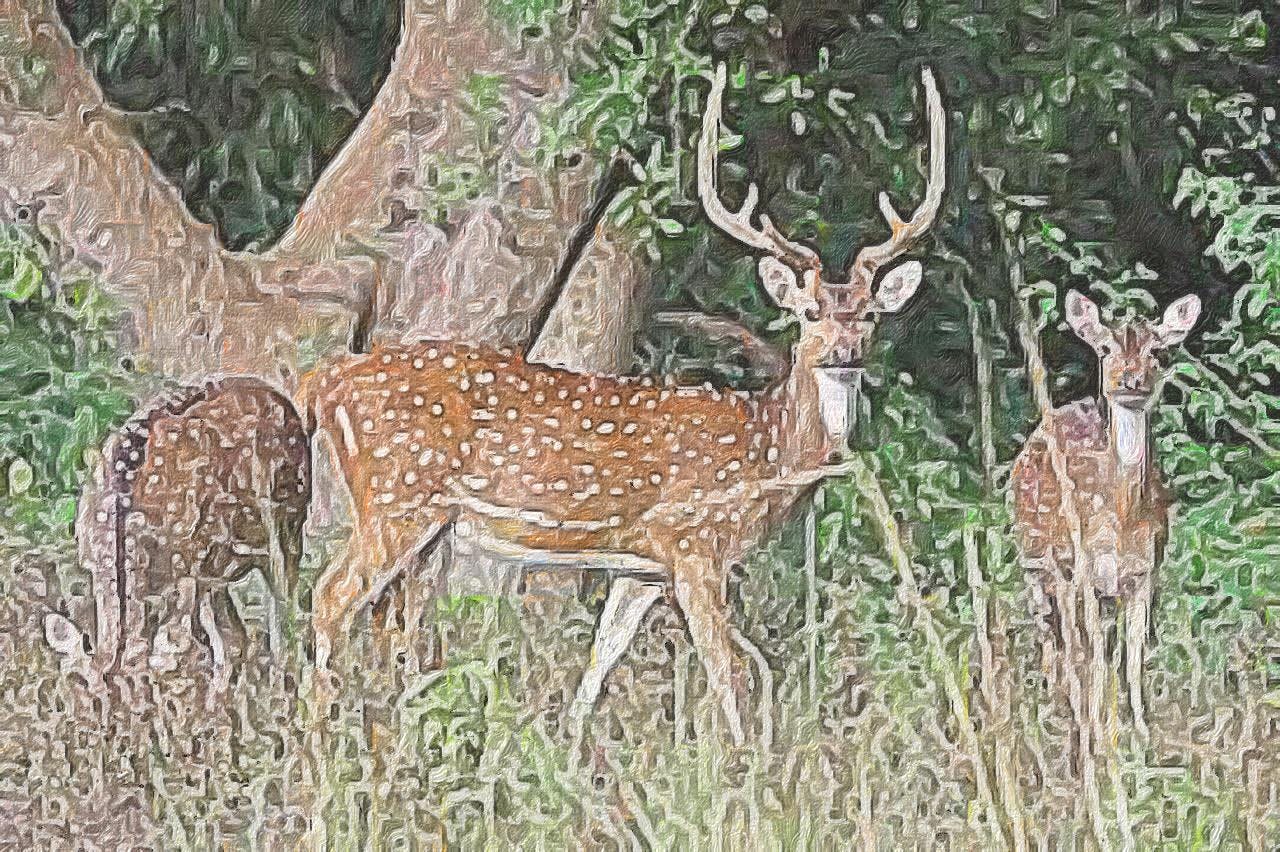 Axis Hunt and Culinary Retreat at Llano Springs Ranch
Llano Springs Ranch
Location: South of Junction at the Headwaters of the South Llano River
Class type: Open Enrollment Public Hunting School (4 hunters/4 non-hunters)
Experience Level: Beginner to Advanced

This incredible opportunity is new to Explore Ranches in 2020. Llano Springs Ranch is an award-winning conservation property located at the headwaters of the South Llano River on the western edge of the Hill Country. The hunt will follow the New School of Traditional Cookery's tried and true format with an extra day of hunting: arrive mid-day on Thursday for a light lunch and orientation, then go to the range for sighting in, some ranch history and a safety lesson. Then, it's on to the first hunt. After each of up to six guided hunts, there will be hands-on (or hands-off; you decide) skinning and gutting demos to give you all the skills to go and do this on your own, or to learn a few new techniques to add to your bag of tricks. On our second day, Friday, begin with a hunt, then lunch, free time, another hunt and then dinner.
Saturday brings a morning hunt, followed by more food (a constant theme) and a long afternoon butchery and cooking class featuring the game present on the ranch. That night is the Guide's Dinner, which any previous attendee of an New School for Traditional Cookery (NSTC) Hunting School will tell you is robust, to say the least. Sunday morning is time for the final hunt, a blowout brunch and packing your animals for the trip home.
For those interested in joining this weekend but not in harvesting an axis deer, we will provide the opportunity to join the hunt and all of the classes, relax and enjoy the ranch's natural springs or fish the crystal-clear Blue Hole.
The Location - Llano Springs Ranch
The ranch lies on the western edge of the Hill Country among the limestone cliffs, spring-fed waters of the South Llano River and magical Blue Hole. The ranch terrain ranges from river bottom to rolling hills covered with live oak and shin oak groves, lacey and chinquapin oaks, persimmon, cedar brakes, the occasional redbud, Texas sophora and elm trees. Three generations of Vandivier have stewarded this land and continue efforts to restore the forest, streams and grasslands to their native state. The ranch has received numerous state and national awards for the land stewardship, including the prestigious Leopold Conservation Award for using sustainable land-management practices.
See accommodations and learn more about this ranch at https://www.exploreranches.com/llano-springs-ranch
The Accommodations
The headquarters and riverfront cabins lie on the banks of the South Llano River, surrounded by a stand of large live oaks. The cabins are rustic and comfortable and perfect for enjoying the serene waters of the river and the rolling countryside. 
Transportation to and from Llano Springs Ranch is not included. Participants will be accommodated in a rustic ranch house in either single or double occupancy rooms depending on the composition of the group.
The Schedule
The experience runs from midday Thursday through Sunday. Directions to each ranch will be provided a month before the event. Please note that the times and activities below are not rigid, but just an outline to guide our weekend. They are subject to change at the discretion of the guides, hosts, and ranch manager. 
Thursday
11am - 12pm: Guests arrive, are shown their rooms and see the property. A light lunch is served.
12 - 2pm: Guests sight in their rifles, have a safety orientation and a seminar led by guides.
3-4pm until dark: Guests accompany Llano Springs Ranch guides on the hunt.
Dark: Any animals harvested are skinned, eviscerated and hung. Dinner is served, clients retire.
Friday
5:30 am: Light breakfast and second hunt.
9:30am – 11am: Any animals harvested during the morning hunt are skinned and eviscerated. Lunch is served.
12 - 2pm: Free time.
3-4pm until dark: Guests accompany Llano Springs Ranch guides on the hunt.
Dark: Any animals harvested are skinned, eviscerated and hung. Dinner is served, clients retire.
Saturday
5:30am: Light breakfast and fourth hunt.
9:30am – 11am: Any animals harvested during the morning hunt are skinned and eviscerated. Lunch is served.
12:30 – 5:30pm: Class on butchering, sausage-making and preparation of all cuts.
5:30 - 7:30pm: Leisure time.
7:30pm: Game feast with guides and hosts.
5:30am: Light breakfast and final hunt.
9am - 11am: Any animals harvested in the morning are prepared for transportation. Lunch is served.
1pm: Guests depart.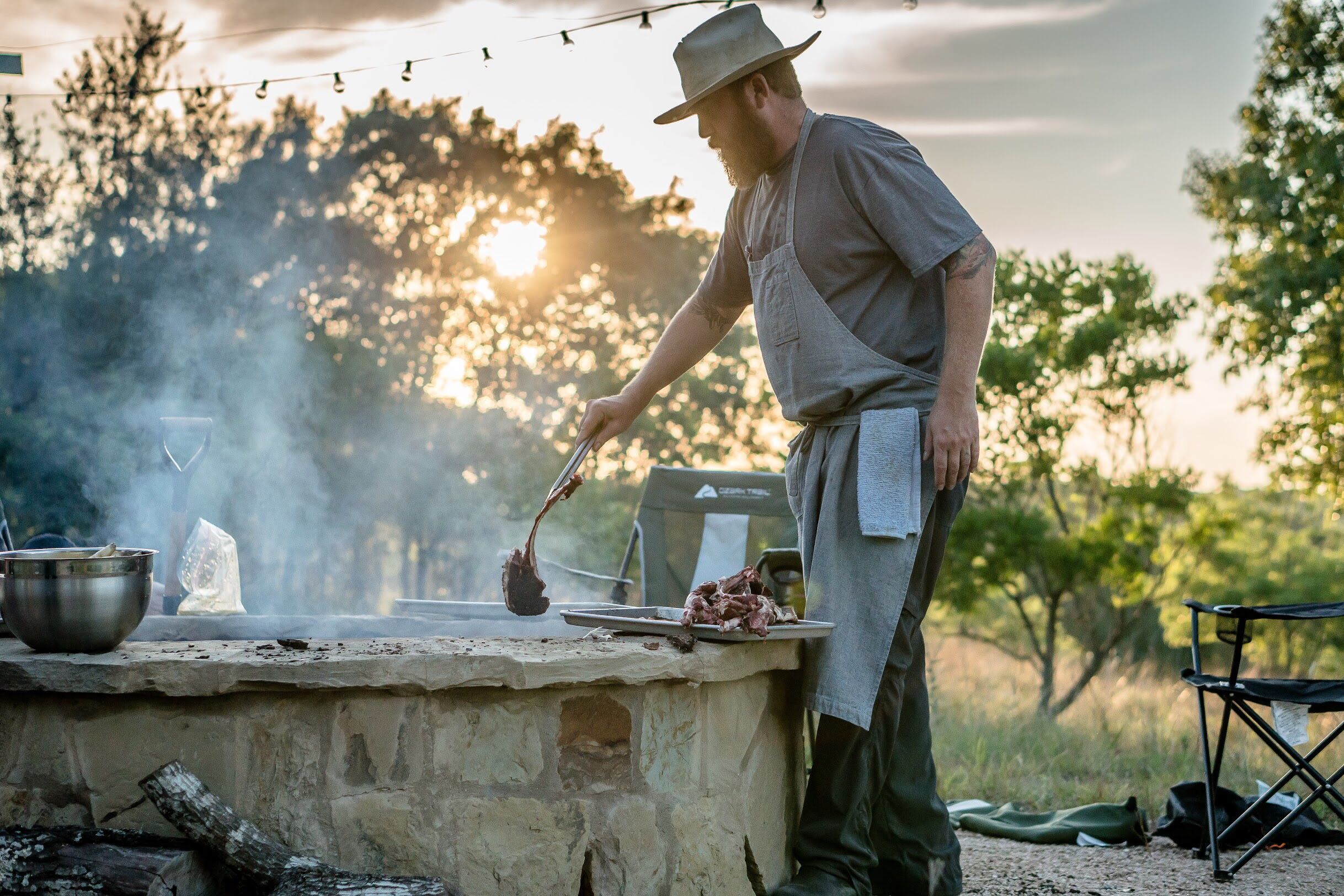 FAQs
Q. Do you guarantee that I will shoot an animal?
A. No. These ranches are susceptible to the variables of weather, wind and other factors that will determine a successful hunt. Our guides will do the utmost to provide a shot at an animal. While our success rates are high, this is hunting and outcomes are not guaranteed. A wounded deer is considered a harvested deer.
Q. Do I need my own rifle?
A. Yes, all students must bring a scoped rifle in an appropriate caliber that has been sighted in and that they have fired at least 20 times. The guides will oversee the sighting-in of rifles on Saturday afternoon to ascertain the shooting skills of the clients to allow for the most responsible shooting during hunts. Bring a rifle caliber of .243 or larger with 100 grain bullets or larger. Scoped rifles only and bring your own ammunition. Two-three boxes of shells will suffice. Handguns, shotguns and bows are not permitted. Most shots are in the 100-150 yard range. Closer is possible but not the norm.
Q. Will I be involved in the cleaning of the animal?
A. Of course, if you choose. Most guide services distance the client from the field-dressing and skinning. We choose the opposite, with the client helping and learning every aspect of the hunt, which only begins with the shot.
Q. What happens to my deer?
A. Any animals harvested will be skinned and eviscerated and hung in a cooler for transport back home. The animals harvested for the class will be from taken by ranch staff and aged to allow the proper hanging time.
Please bring one to two large 50 quart cooler to transport your animal back home – we will split or quarter animals to facilitate transport.
Q. How many deer may I shoot?
A. Each student may take one animal with express consent of the landowner or guide. 
Q. What should I wear?
A. For the hunt: comfortable clothing, preferably camouflage or drab earth tones, with a hat, sunglasses (if you prefer), gloves, insulated undergarments, very good boots for hiking in rugged terrain, and rain gear. We highly recommend First Lite products, and NSTC clients receive 10% off of their purchases. Be prepared for hot, cold, rain and snow, and to not be seen by wildlife. For the class and non-hunting times, please dress casually and comfortably. The temperatures can fluctuate between 15 and 80 degrees, with possible rain and snow. Layers are highly recommended, and please remember that hunting before the sun comes up can be very cold.
Please also bring headlamps or a flashlight for moving around the headquarters and for potential use while hunting. Please also bring something for drinking water, like a Nalgene bottle or canteen.
Remember to minimize the amount of fragrant items you have, i.e. cologne, deodorant, etc. We recommend placing clothing that will be worn on the hunt outside overnight to air out.
Q. Will we hunt in inclement weather?
A. Yes, if it is safe and feasible. If it is raining or snowing and there is a chance of animal movement, we will hunt.
Q. What kind of hunt will we be doing?
A. The primary method of hunting is safari style from a vehicle due to the herd movements of axis deer; however, we may sit in blinds depending on the hunting method that best suits the sititation. This ranch has some rugged terrain and the best way to see animal movement is from a vehicle. Under some circumstances and with explicit Landowner or guide direction, stalking may be employed.
Q. How can I prepare for the class?
A. Read online about axis deer hunting. Read any of the many good books written on the subject. Spend time at the shooting range getting used to your rifle. Study pictures online to help you positively identify animals and shot placement. 
Q. What will we do in our leisure time?
A. This will be a fairly strenuous and active class, and leisure time can be utilized to nap, rest, or see the property (in designated non-hunting areas). Non-hunters may accompany hunters depending on the conditions and have the option of spending time fishing and on the South Llano River with the safety of the group and success of the hunt as top priorities.
Q. What kind of license do I need?
A. A Texas hunting license is required for each hunting guest, as well as Texas Hunter Education class (if you were born after September 2nd, 1971). The class can be taken online, along with a one-day hands-on class. Out of-state licenses are available; we can assist in selecting the right license for you. Funds spent on licenses goes directly to Texas Parks and Wildlife Department and help fund conservation efforts.
Q. What meals are included?
A. Every meal from Thursday lunch to Sunday lunch is provided, prepared by NSTC staff. The food is very good, and made with care using high quality, local ingredients from local farms. Saturday's dinner will be a game feast of several courses similar to the Dai Due Supper Clubs.
Q. Is alcohol provided?
A. No. Please bring any alcoholic beverages you would like to drink, as well as any mixers. Our staff will be happy to mix and serve your drinks, as well as wines and beer. All glassware will be provided. Drinking is not allowed before hunts.
Q. Will my cell phone work at the ranch?
A. AT&T is the only cell service that works at the ranch.
What to Bring

Scoped Rifle

Ammunition, 2 boxes

Hunting license, Hunter education card (required)

Skinning and gutting knives 

Binoculars

Ear Protection

Comfortable, drab-colored or camouflage clothing

Great, sturdy shoes

Snake boots, heavy boots or gaiters (recommended at all times of year)

One to two very large coolers (50 quart) or arrange to ship

Hat

Gloves

Rain gear

Water bottle or canteen

Small bag/backpack for carrying items

Fishing rods and equipment                                                                                                                        

Flashlight or headlamp

Wine, beer or alcohol

Preferred soft drinks
Ranch Rules for Hunting School
· No drinking before or during a hunt.
· No coyotes, bobcats, turkeys, ducks, raccoons or any other animal other than deer may be shot.
· Only safe, ethical shots may be made at any time. Do not attempt long shots, shots outside your normal range, shots through thick brush or shots at moving animals without consent of the Ranch Manager or Guide.
· Any instructions given by a Guide or Ranch Manager must be followed at all times. Advice given on sighting, shot placement and any other circumstance during hunting should be followed exactly. Failure to follow instructions given by the Ranch Manager, Guides or Hosts will result in expulsion from the property without refund.
· Ranch owner will define safety rules including when guns shall be loaded or unloaded.
· No weapons other than rifles are allowed.
· All animals on the Ranch must be treated with respect, even and especially when dead.
· ALL MEAT FROM ANIMALS HARVESTED BY A GUEST MUST BE TAKEN BY THE GUEST AND UTILIZED TO ITS FULL POTENTIAL. IF YOU DO NOT NEED ANY MORE MEAT, THEN DO NOT KILL AN ANIMAL ON THE RANCH. Guests may share portions of their meat with other students if they desire.                                      
· As we will be departing the main house at an appointed time, please be respectful of others' hunts and be ready at the designated time. We have a "no knock" policy, so we will not try to wake you up if you oversleep and miss a hunt or event.
About the New School of Traditional Cookery
The New School of Traditional Cookery was founded in 2006 to promote responsible use of our wild resources. The aim is to educate, train and empower people within our community to utilize local foods to their fullest. The founder, Jesse Griffiths, has a singular focus on sourcing food for his Austin restaurant locally. He opened Dai Due in 2014, named one of the best new restaurants by Bon Appetit in 2015. The moniker is inspired by an Italian proverb: From the two kingdoms of nature, choose food with care. Now Dai Due is connecting customers directly to food sources by offering classes on hunting, fishing, and whole-hog butchery. In 2012, he published Afield, a lyrical guide to cooking wild game and fish, which was nominated for a James Beard award. He's working on a second cookbook dedicated to feral hogs.
About Explore Ranches
Explore Ranches is an online booking platform for nature-based travelers that offers exclusive access to the nation's most historic and picturesque ranches for the first time. Booking with Explore Ranches means gaining exclusive access to thousands of acres of the nation's least explored lands. No matter what kind of adventure you're searching for—from hiking in the mountains to relaxing poolside—we have a ranch for you.
---
Terms and Conditions
Schedule of events or people involved may change without notice. Due to the very limited space, payment is non-refundable.
In the event that we do not sell out the weekend, we reserve the right to cancel (and refund your payment in full).
If an attendee is unable to attend the event, the attendee must inform Explore Ranches, LLC via email at info@exploreranches.com in order to cancel the attendee's registration.
Paperwork
By signing up for this event, you agree to promptly sign and return all paperwork that we send to you, including liability release waivers. You understand that failure to sign them means you will not participate in any activities. 
Press and Media
By signing up for this event, you agree that Explore Ranches, LLC may use any photographs, video, and written material acquired from the event for promotional purposes. 
No Exceptions
Please take careful note of the terms outlined in this policy as NO EXCEPTIONS to the policy will be made, regardless of the reason for cancellation. For the avoidance of doubt, Explore Ranches, LLC. cannot make any exceptions to this cancellation and refund policy even if the cancellation is due to illness or medical issues; family or personal matters; revocation, cancellation, or expiration of the attendee's visa; travel bans; deportation; any laws, regulations, orders, or policies concerning immigration and refugee status that may impact the attendee's ability to travel; change in the attendee's immigration status; scheduling conflicts; travel delays; a force majeure event (including, but not limited to, an act of God, war, terrorist activity, labor dispute, civil unrest, utility outage, etc.); or any other reason whatsoever.
Scoped Rifle

Ammunition, 2 boxes

Hunting license, Hunter education card (required)

Skinning and gutting knives  

Binoculars

Ear Protection

Comfortable, drab-colored or camouflage clothing

Great, sturdy shoes

Snake boots, heavy boots or gaiters (recommended at all times of year)

One to two very large coolers (50 quart) or arrange to ship

Hat

Gloves

Rain gear

Water bottle or canteen

Small bag/backpack for carrying items

Fishing rods and equipment                                                       

Flashlight or headlamp

Wine, beer or alcohol

Preferred soft drinks
More Details