| | |
| --- | --- |
| | |
| | View Full Gallery |
View Full Gallery
In Park county near Gardiner, MT
Explore the heart of Yellowstone country starting at the B Bar Ranch nestled in the pristine privacy of Tom Miner Basin.
Overview
| | |
| --- | --- |
| 9,000 Acres | 15 bedrooms |
| Sleeps 34 | 9.5 bathrooms |
Unique Features
Near Yellowstone National Park
Near Gallatin National Forest
Backcountry Ski-In Rentals
Horseback Riding
Guests are greeted by landowner or landowner representative and staff is available when needed or in an emergency situation. Options include guided excursions and catered meals.
About the Ranch
The History
First human use of the Tom Miner Basin was by local Native American tribes as summer hunting grounds. The Absaroka (Crow) lived in a large territory bordered by the Beartooth Plateau on the south, the Yellowstone Plateau on the southwest and the Gallatin Mountain Range and Yellowstone River on the west and north. Tom Miner Basin is located on the western edge of that region, in the Gallatin Range. In addition to the Crow, the Sheepeater Indians most likely hunted in the Basin as well.
Two hiking trails still used at B Bar– one traveling into Yellowstone and the other over Buffalo Horn Pass into the Gallatin River drainage – were likely used by Native Americans as they traversed the area. Tipi rings are still visible on the land, and some arrowheads and chips have been found in various ranch locales.
Although not known with certainty, a member of the Lewis & Clark Expedition named John Colter may have been the first person of European descent to visit Tom Miner Basin in the early 1800s. Colter's stories include trapping in a location that could well have been this Basin. He spent months alone in the wilderness, and is widely considered to be the first "mountain man."
In the mid-1860s when Emigrant Gulch was settled as a lively gold mining camp, hunters frequented the Basin as well. It was around this time that Thomas J. Miner began trapping here, and it is for him that the area was named.
The first homesteaders arrived in the Basin in the 1890s, following the settlement of Paradise Valley immediately after the Civil War and upon completion of the Northern Pacific Railroad a decade earlier. The first documented resident in the Basin was a man named Burkins, who homesteaded around 1900 where the main B Bar Ranch buildings are now located. In 1906 he sold his holdings to Charlie and Adelaide Scott, who owned the B Bar brand. There were at least six other homesteads settled about this time, as the Northern Pacific sold land in the Basin to ranchers for grazing. Names given to areas of the ranch – the Reed Place, Styers Pasture, Davis Cabin, and Anderson Place – remind us of the families who struggled to make a living in the upper reaches of the Basin.
In the late 1930s, Bill Ward (a businessman from New York) came to Montana and consolidated various homesteads into a larger B Bar. During Ward's tenure, the ranch was managed and operated by Don Hindman, a rancher and furniture maker from Cody, Wyoming. Hindman built our shop, Skully Barn, and much of the Molesworth-style furniture in the lodge.
By the mid-1960s the Wards were forced to sell the ranch with the passing of Bill Ward. They sold to the Dunevant Corporation, an agricultural commodities brokerage firm in Tennessee. Very quickly they found that conditions here for raising cattle were very different than what they were accustomed to. When the ranch was again put on the market three long-time ranching families in the Basin purchased it to protect the property from subdivision or other development. Two of the ranchers took acreage for their share, leaving the third as sole owners of the reduced-size B Bar. It was from these owners that the B Bar, as it is today, was purchased by the current owners in May of 1978.
With the purchase of eight cows and one bull in 1989, the ranch began its endeavor to operate organically. Today, the ranch honors the historical significance of the area through ecological preservation and stewardship of the land.
The Experience
Refresh and inspire in the heart of Paradise Valley suspended in the tranquility of upper Tom Miner Basin. This ranch, surrounded by the 10,000 foot high mountains of the Gallatin Range, shares a border with Yellowstone National Park. Nine thousand acres of undisturbed land encompassing creeks teaming with trout and moose, timber inhabited by elk and grizzly and peaks topped with sheep and goat, create an astonishing wildlife experience. Wander in the petrified forest, ski on miles of cross country trails and downhill lines, observe livestock and capture photos of this special place. Learn about the "B Bar Way" and what it means to be an organic ranch that has practiced co-existence for over 30 years. Situated between Bozeman and the North gate of Yellowstone, this ranch is perfect for Park goers, family reunions, group retreats, and anyone looking to share a greater purpose at this historical ranch.

The Accommodations
The Ranch offers accommodations in six cozy and comfortable A-frame cabins. Each of the cabins sleeps four and includes a private porch, living room, bedroom and bath on the main floor, and a loft bedroom upstairs. A living room sofa opens into a double bed if needed. The cabins are a minute's walk from the lodge and sit amongst an aspen grove, facing the pond with Sheep Mountain providing a stunning backdrop. They are also a short stroll away from the open air hot-tub, unmatched for its nighttime celestial viewing.
There are also several choices of accommodations in the main lodge – two large rooms upstairs, and a master suite on the main floor. Each contains private baths, and large windows offering spectacular views of the ranch and surrounding mountain peaks.
The lodge is the social center for guests with its large dining room and sunny southern-facing deck, professionally staffed kitchen, yoga studio, gift shop, and large, inviting living room with a wood stove and log furniture of the Molesworth tradition handmade on the ranch a half-century ago. Bronzes and paintings portray the West's ranching and wildlife heritage. In a cozy nook you'll find percussion instruments, games, puzzles and a small library comprising local history books, guides to the region and numerous novels including many by Montana authors which guests are welcome to borrow during their stay. Adjacent to the "big" room is a spacious grand view porch with views up Paradise Valley and of Emigrant Peak where guests enjoy early morning coffee as they watch the sunrise.
The Land
Discover a landscape shaped by glaciers and volcanoes where the mountains are still growing and the rivers cut through a geography whose names trace its history and its people.
From The
Ranch
Owner
From The
Ranch Owner
"The B Bar welcomes guests to experience the healing power, inspiring beauty and deeper meaning of living in harmony with an intact, healthy ecosystem."
-Maryanne Mott
The Lodging
The Ranch offers accommodations in six cozy and comfortable A-frame cabins and three rooms in the main Lodge.
The Lodge
5,500 sq. ft.
3 bedrooms
3.5 bathrooms
sleeps 10
A Frame Cabin
700 sq. ft.
2 bedrooms
1 bathrooms
sleeps 4
A Frame Cabin
700 sq. ft.
2 bedrooms
1 bathrooms
sleeps 4
A Frame Cabin
700 sq. ft.
2 bedrooms
1 bathrooms
sleeps 4
A Frame Cabin
700 sq. ft.
2 bedrooms
1 bathrooms
sleeps 4
A Frame Cabin
700 sq. ft.
2 bedrooms
1 bathrooms
sleeps 4
A Frame Cabin
700 sq. ft.
2 bedrooms
1 bathrooms
sleeps 4
The Ranch offers accommodations in six cozy and comfortable A-frame cabins and three rooms in the main Lodge.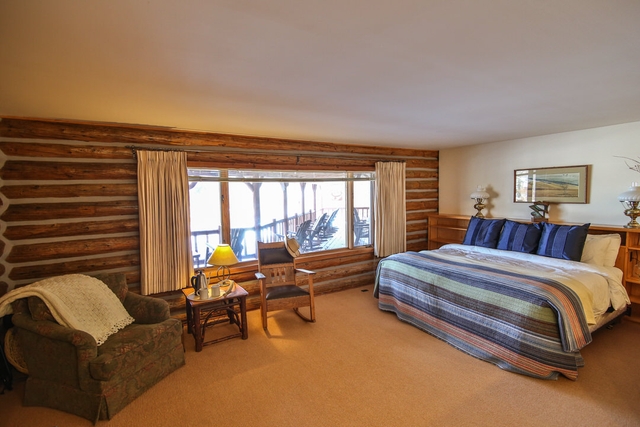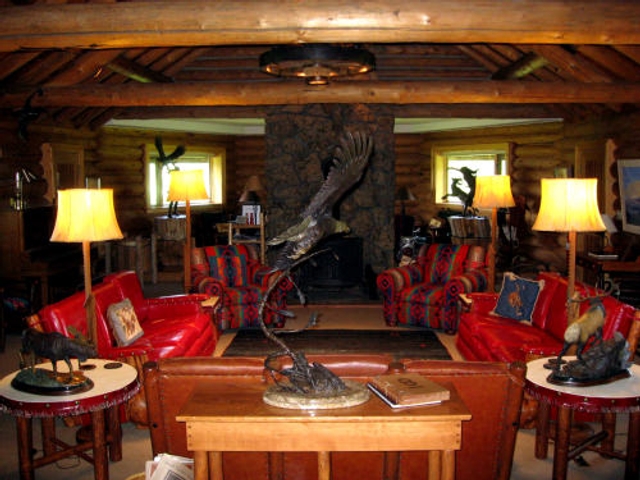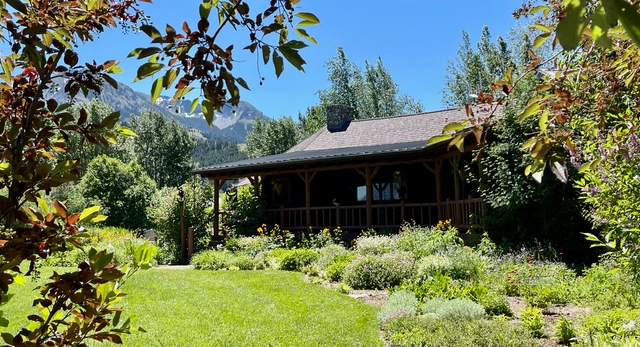 The Lodge
5,500 sq. ft.
3 bedrooms
3.5 bathrooms
sleeps 10
A Frame Cabin
700 sq. ft.
2 bedrooms
1 bathrooms
sleeps 4
A Frame Cabin
700 sq. ft.
2 bedrooms
1 bathrooms
sleeps 4
A Frame Cabin
700 sq. ft.
2 bedrooms
1 bathrooms
sleeps 4
A Frame Cabin
700 sq. ft.
2 bedrooms
1 bathrooms
sleeps 4
A Frame Cabin
700 sq. ft.
2 bedrooms
1 bathrooms
sleeps 4
A Frame Cabin
700 sq. ft.
2 bedrooms
1 bathrooms
sleeps 4
Wifi
Washer & Dryer
Fireplace
Hot tub
Iron
Hair dryer
Linens
Towels
Telephone
Fully equipped kitchen
Outdoor Grill
Kid-Friendly
Non-Smoking
No pets allowed
4WD required
Activities
There is no shortage of activities on site and off, including horseback riding, supreme wildlife watching, and some of the world's best dry fly fishing.
Biking
Bird watching
Fishing
Hiking
Horseback riding
Paddling
Stargazing
Water sports
Wildlife Viewing
Cross-country skiing
Snowshoeing
Tennis - hard court
Pickleball
Equipment Available
Fishing Equipment - 4
Available Activities
Let us know what you're interested in when you request to book.
Biking
Biking opportunities on and nearby the ranch Require rentals at an additional charge
Fishing
In addition to the creek and two small ponds on the ranch, fishing opportunities abound in the surrounding area. Expect some of the world's best dry fly fishing from the blue ribbon Yellowstone River! High fish counts, year round access, and spectacular scenery draw anglers from all over to the waters from Yellowstone National Park to legendary Paradise Valley and beyond. Conditions created by the early July salmon fly hatch and following hopper season give novices an excellent chance for success. Fly shops in Gardiner and Livingston offer guided drift boat trips. Try wade fishing in the shallower areas near Emigrant or during low water seasons.
Hiking
There are multiple hiking trails in various directions on the ranch as well as public trails in the nearby campground. Enjoy wide vistas of the ranch and uphill climbs into the cooler forest above. Bring your binoculars for spectacular bird and wildlife watching, and your track guide to identify the many animals traveling these corridors. A minimum hiking group of four is required here in grizzly bear country and we supply bear spray, maps and radios for you to safely enjoy your hike. A good, local guide familiar with B Bar is available for hire at http://yellowstoneguidelines.com.
Rafting
Whether you're looking for whitewater or a scenic float, you'll find the perfect speed for you and your group. Enjoy strikingly beautiful landscapes as you cruise one of the local rivers. Whitewater trips are an exciting mix between family-friendly rapids, scenic vistas, and wildlife watching. On whitewater trips rafters frequently see bighorn sheep, elk, eagles and osprey and have even caught glimpses of bear and moose! Wear clothes you don't mind getting wet and prepare yourself for a rollicking good time!
Horseback Riding
While B Bar does not run their own string of dude horses, there are off ranch options available for riding in beautiful surrounding Paradise Valley, Cinnabar Basin, and Yellowstone National Park. There is sometimes an option of hiring horses and guide for use on the ranch. Please inquire about all options when you book!
Paddling
The Yellowstone River is a short 15 minute drive away!
Wildlife Viewing Wagon Ride
Most forms of wildlife in neighboring Yellowstone National Park freely traverse B Bar ranch. Elk, white-tail and mule deer, moose, grizzly and black bear, wolves, coyotes, bighorn sheep, mountain goats, bobcat, mountain lions, and numerous small mammals cross the six-mile boundary in common with Yellowstone Park to roam the ranch's 9,000 acres. More than 75 bird species either migrate through or reside year-round on the ranch. We are fortunate to regularly observe sandhill cranes, great blue herons, great-horned owls and bald and golden eagles. We also see red-tail and rough-legged hawks, Clark's nutcrackers, western meadowlarks, black-billed magpies, mountain bluebirds, ruffed and blue grouse, gray and Steller's jays, western tanagers, mountain chickadees, pine grosbeaks, Canada geese, trumpeter swans, and various ducks and other waterfowl. Additionally, Tom Miner Creek provides precious habitat for its rare community of native Yellowstone cutthroat trout and a growing population of beavers. Enjoy early morning/evening glassing of the nearby mountainsides, hire a local naturalist guide to interpret wildlife behavior, or scout our trails for animal tracks and other signs year round. One local guide for hire can be found at http://yellowstoneguidelines.com
Request to stay at B Bar Ranch
In Park County near Gardiner
In order for us to ensure you have the best experience, we take your requested date and party size and confirm with the ranch owner before you finish and pay for your booking. You will not be charged to request to book.
512-230-3345
info@exploreranches.com
$3,200
3 night minimum
Max number of people: 34
Price is $3200/night for up to 12 people and does not include meals. Please inquire for hosted rates to include meals and pricing for more than 12 people.
512-230-3345
info@exploreranches.com